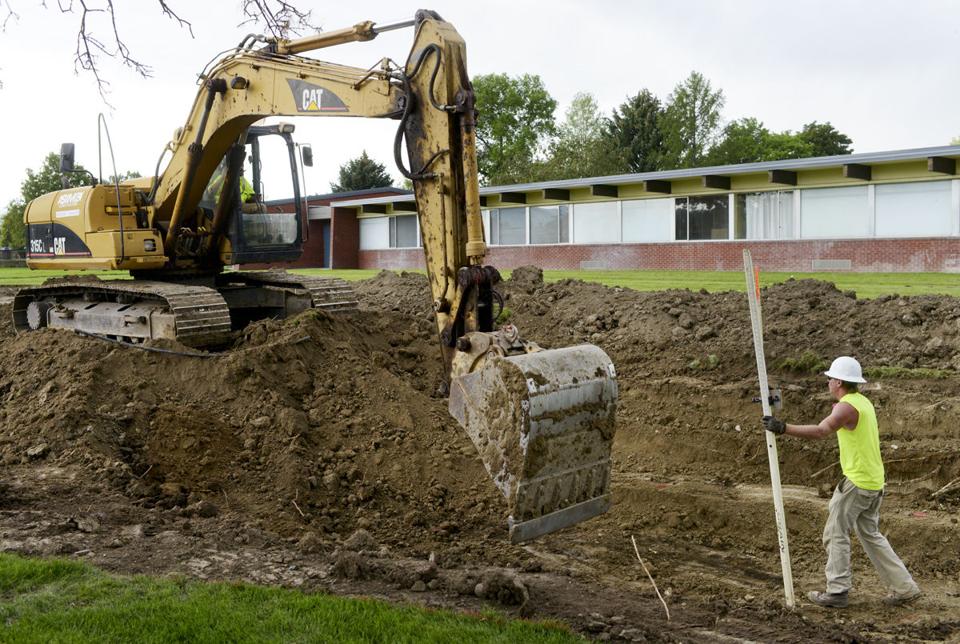 Posted: 
After years of dreaming and months of planning, volunteers working to turn a straight ditch on the Bozeman High School campus into an attractive, meandering creek are seeing their idea become reality.
"It's happening!" stream restoration expert Scott Gillilan said Tuesday.
Along North 11th Avenue, the air was filled with the beep-beep-beep from a hydraulic excavator and Bobcat loader. Sime Construction workers used their heavy equipment to dig a winding channel for the new streambed and fill in the old ditch.
Gillilan said by the end of next week, he hopes it will look like the creek has been in its new channel forever.
"This is amazing, truly amazing," said Robin Hompesch, Bozeman High biology and wildlife ecology teacher. For five or six years, Hompesch has been writing grants and trying to raise interest and money to bring Mandeville Creek back to life.
Once the professional engineers, stream and landscape experts started volunteering — many of them the parents of high school students — things really took off, Hompesch said. So many people have donated their time and materials, she added, "It makes me so proud to be a teacher in Bozeman."
The project is moving ahead on a shoestring budget, with many people donating their services at no cost or lower cost, Gillilan said. The volunteers still need to raise thousands of dollars to make the rest of the project happen.
Plans call for eventually installing pedestrian bridges over the creek and creating outdoor classrooms. Donation information is on the project's website (bhscreek.org).
Steve White, a Gallatin County commissioner, said his whole Bozeman High Class of 1969 is thrilled about the project. At this year's 45th class reunion, White said, there was a lot of enthusiasm for raising money to install one of the pedestrian bridges.
"We see it as an extension of what we did in '69," White said, when Bozeman High students loaded up rocks by hand from the Gallatin River and hauled them to the high school to create an island in the creek.
The granite river rocks brought in by the Class of '69 will be reused, said Chris Wasia, Mandeville Creek project manager. He has two kids at Bozeman High and his Genesis Engineering office is right across the street from the school.
"It's going to beautify the neighborhood and the school," Wasia said.
The fact that this first phase is finally happening is a testament to everybody's willingness to join in, Wasia said. Every time one person couldn't make something happen, someone else was willing to step up, he said.
One of the challenges they faced was getting permits to alter the stream from the city of Bozeman, Gallatin Conservation District and U.S. Army Corps of Engineers.
Amy Stefan, landscape architect and mother of three recent Bozeman High graduates, said native plants — grasses, perennials, aspen trees and the like — will be planted along the new streambed. Native species will be more sustainable, as well as educational for students, she said.
Gillilan said he was pleased that wetland sod dug up from a new subdivision is being donated by the Bozeman company Four Points Montana to the Mandeville Creek project, instead of being wasted.
Next week, a half-dozen young people with the Montana Conservation Corps are expected to come in to rake dirt, place rocks and plant plants, Wasia said.
They're facing a big deadline — everything has to be finished and cleaned up by Sept. 2, the first day of school.
© 2014 Bozeman Daily Chronicle. All rights reserved. This material may not be published, broadcast, rewritten or redistributed.